Email not opening properly? Click here to view a web-based version
FEBRUARY 2-10, 2019 | HARRISBURG, PA
New! Do-It-Yourself 2020 Booth Renewal
Save time and avoid the lines - renew your booth space online from wherever you are. Check your email on Wednesday, January 23rd for a link that allows you to automatically reserve your 2019 booth space for 2020! *Deposit is required at time of renewal.
FREE Overnight Trailer Parking - New Location for 2019
The FREE off-site trailer parking lot has moved from the State Police Building to a specific, designated area at the Harrisburg Area Community College (HACC), across the street from the PA Farm Show Complex. As a reminder, trailers are not authorized in the PA Farm Show Complex parking lot and will be towed unless you have purchased a trailer permit for that lot. Do not park at the Harrisburg State Police Lot (used in 2018). Free trailer parking is provided by NRA as a service to all exhibitors, so please be respectful of the property and follow the signage. For the map, click here.
Ticket Specials
Bring potential customers back to your booth by letting them know about our special ticket offers this year - including the $8 Afternoon Ticket and Sunday Bounce Back promotion (2/10). For a full list of special ticket offers click here.
Move-In:
Wednesday, January 30 - 8:00am - 6:00pm
Thursday, January 31 - 8:00am - 6:00pm
Friday, February 1 - 8:00am - 6:00pm
(drive in not permitted on Friday)

Show Hours:
Saturday, February 2 - 9:00am - 7:00pm
Sunday, February 3 - 10:00am - 5:00pm
Monday, February 4 to Friday,
February 8 - 10:00am - 7:00pm
Saturday, February 9 - 9:00am - 7:00pm
Sunday, February 10 - 10:00am - 5:00pm

Move-Out:
Sunday, February 10 - 5:00pm - 11:00pm
Monday, February 11 - 8:00am - 4:00pm

IMPORTANT DATES:
Mark your calendars!
Friday, January 18:
Exhibitor Order Deadline: Exhibitor Badges, parking passes, trailer permits, guest tickets.
Friday, January 25:
Last day shipments can arrive at the Advance Warehouse
Deadline to order Internet/Cable/Phone
For a full list of upcoming deadlines, please visit the Exhibitor Manual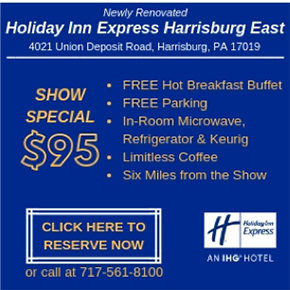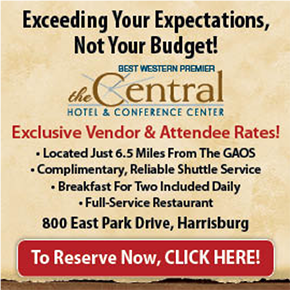 Use Group Code
1J5ET7P9
Pre-order your Staff lunches from SAVOR Catering & Concessions and have them delivered right to your booth!
Click here to download the order form.
| | |
| --- | --- |
| | Get It Now Print and USPS will be on-site. Visit booths 51 and 52, located near the Large Arena and Boat Hall, for your printing and shipping needs. |
If you've already checked out the FAQ Page and still have additional questions, please call or email your Account Representative using the contact information listed below. You may also reach an Exhibitor Service Representative on our Exhibitor Hotline, Monday through Friday, 8:30 AM to 5:00 PM EST, at 866-343-1805.
FOLLOW THE GREAT AMERICAN OUTDOOR SHOW