Email not opening properly? Click here to view a web-based version
FEBRUARY 2-10, 2019 | HARRISBURG, PA
Order Your Badges, Parking Passes and Guest Tickets!
The 2019 Exhibitor Manual was sent out the first week of November to all companies who have paid in full for their booth (Final payment was due Friday, November 2) Click here to pay online. The manual will allow you to order show badges, purchase parking passes, order tables/chairs and much more. Remember, basic electric is included in your booth cost, but if you need additional power, you will need to order it through your manual.
(You will have only received it if you have paid in full for your booth) Call 866-343-1805 to have it resent.
Move-In:
Wednesday, January 30 - 8:00am - 6:00pm
Thursday, January 31 - 8:00am - 6:00pm
Friday, February 1 - 8:00am - 6:00pm
(drive in not permitted)

Show Hours:
Saturday, February 2 - 9:00am - 7:00pm
Sunday, February 3 - 10:00am - 5:00pm
Monday, Feb. 4 to Friday, February 8 - 10:00am - 7:00pm
Saturday, February 9 - 9:00am - 7:00pm
Sunday, February 10 - 10:00am - 5:00pm

Move-Out:
Sunday, February 10 - 5:00pm - 11:00pm
Monday, February 11 - 8:00am - 4:00pm

IMPORTANT DATES:
Mark your calendars!
Friday, January 4:
Directory Ad Deadline
Friday, January 18:
Exhibitor Order Deadlines (Exhibitor badges, parking passes, etc.)
Friday, January 25:
Last day shipments can arrive at the Advance Warehouse
Deadline to order Internet/Cable/Phone
For a full list of upcoming deadlines, please visit the Exhibitor Manual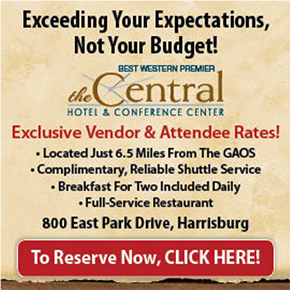 All new for 2019, the GAOS Exhibitor-Media Kit is a free promotional tool full of eye-catching new graphics to bring attendees to your booth. Please use the following graphics on your website and social media pages to help us promote the show and encourage others to join us at the World's Largest Outdoor Show. Click here to download the media kit.
Pre-order your Exhibitor Lunches from SAVOR to your booth.
Click here to download the order form.
Advertising & Sponsorship Opportunities
Our Sponsorship and Advertising opportunities for the 2019 Great American Outdoor Show are the best way to get your company noticed at the show. Have your company featured on a GAOS email sent to over 3 million NRA members or sponsor the GAOS app and send mobile or text notifications to attendees. We have numerous sponsorships still available. Click here.

Don't miss out! The deadline to advertise in the GAOS Attendee Directory is fast approaching. Stay in front of attendees long after the show. Submit your directory ad order form by January 4th to take advantage of this opportunity.

In order for our exhibitors to see some of our new advertising efforts you have been added to our attendee mailing list so you can see first-hand the work we are doing.
Why donate? All donated items and trips will be utilized at The Friends of NRA GAOS Banquet, providing your company with valuable exposure to your target market. Donors receive promotion and advertising among NRA's extensive membership and event attendee marketing. If you are interested in attending the banquet, buy tickets here. The event will take place February 7th, doors open at 6:00pm. If you would like to donate merchandise or a hunt to the banquet, please contact Kory Enck at kenck@nrahq.org.
The NRA is proud to partner with local hotels near the Great American Outdoor Show to offer you THE BEST RATES in town. Many of the hotels offer free parking, breakfast, wifi and some even offer a shuttle to and from the show. Click here.
HOUSING SERVICE SCAM
Exhibitors have reported calls from companies claiming to be the housing service for GAOS.
Please beware! If you provide your credit card information to any of these unauthorized vendors, your card may be charged but you may not have a reservation when you arrive in Harrisburg, PA.
The NRA is NOT utilizing the services of any housing or reservations vendor for the Great American Outdoor Show. Click here for a list of our GAOS partner hotels.
FRAUDULENT ATTENDEE LISTS
Please be beware of companies who contact you offering to sell event attendee lists. They DO NOT have these lists nor can they make these lists available. Our attendee database is confidential and is not sold or made available to anyone.
Should you receive unsolicited marketing from a company offering to sell these lists, do not respond. The NRA is in no way associated with these companies.
Don't Forget to Submit Your Celebrity Guests!
Get the word out! Let us know what celebrities or special guests you have coming to the show by clicking here and filling out the submission form. We'll post all exhibitor special guest appearances to our website so attendees know to stop by.
If you've already checked out the FAQ Page and still have additional questions, please call or email your Account Representative using the contact information listed below. You may also reach an Exhibitor Service Representative on our Exhibitor Hotline, Monday through Friday, 8:30 AM to 5:00 PM EST, at 866-343-1805.
FOLLOW THE GREAT AMERICAN OUTDOOR SHOW